Apply for PAMS 2023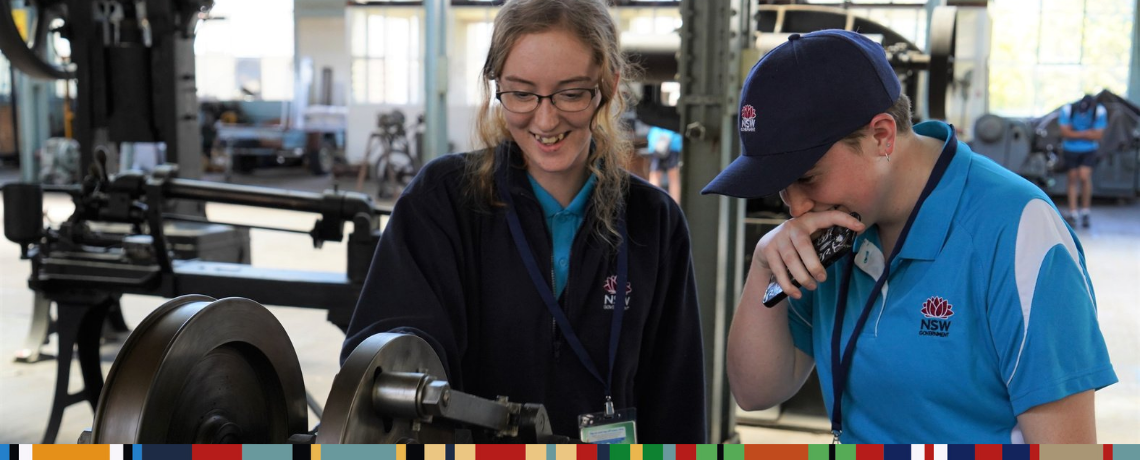 Applications for the Premier's Anzac Memorial Scholarship are now closed. Students who applied should expect to receive a notification about the outcome of their application by mid-May 2023.
Will you be a NSW Year 10 or 11 History student in 2024? Register your interest in next year's Scholarship to receive a notification when applications open.
The scholarship awards a place on a unique 2-week study tour accompanied by a military historian in the 2023 Spring school holidays (22 September to 4 October 2023).
You will find the key information on the application process below:
Eligibility Criteria for the Premier's Anzac Memorial Scholarship
To be considered for the 2023 Premier's Anzac Memorial Scholarship tour, students applying must:
be an Australian citizen or permanent resident of Australia
be enrolled in Year 10 or 11 at a NSW high school in 2023
be at least 16 years old by 31 December 2023
be studying History at a NSW high school in 2023
display a genuine interest in history, particularly Australian history and the role that war has played in the development of Australia
demonstrate sincere respect for the service and sacrifice of Australians in times of war and peacekeeping operations
be civic-minded and contribute positively to the community including their school community
be able to follow very high standards of behaviour, dress and protocol
be resilient, adaptable, independent and trustworthy
have excellent communication skills
be able to complete tasks by specified deadlines
have the physical and emotional capacity to participate in the tour activities and meet the challenges of group travel with unfamiliar students and teachers
be fully vaccinated against COVID-19
be available to attend a full day pre-tour meeting at the Anzac Memorial in Hyde Park Sydney on 3 July 2023
be available to attend the tour in the Spring school holidays (from around Friday 22 September 2023 for up to 14 days)
accept the following conditions:

have parental/guardian permission to apply and participate in the program
have a letter of endorsement from their school principal and history teacher
agree to participate in media interviews should they be requested and to appear on official NSW Government websites (the NSW Office for Veterans Affairs will carefully monitor information that is made public
to produce a piece/pieces of work as part of the program that may be published on NSW Government media platforms, including a research task and speech to be presented on the study tour
to obtain a current passport that will be valid for six months beyond the duration of the tour if awarded a scholarship
How to apply
Applications are now closed. 
Will you be a NSW Year 10 or 11 History student in 2024? Register your interest in next year's Scholarship to receive a notification when applications open.
Read the Student Application Guidelines.
Write a 1,000-word personal essay responding to the following questions:

Why do you want to be awarded a Premier's Anzac Memorial Scholarship?
What qualities do you have that would make you an excellent Premier's Anzac Memorial Scholar?
How do you contribute positively to your community including your school community?
Which topic that you have studied in history have you particularly enjoyed and been engaged by, and what was the most interesting or significant thing you learned in that topic?
Why do you think it is important to learn about and commemorate the service of Australians in wars and peacekeeping missions?

Get a letter of recommendation from your School Principal and History Teacher using the provided template.
Have your parents/guardians sign the consent form
Fill out the Student Application Form on SmartyGrants at https://veteransnsw.smartygrants.com.au/PAMS2023
Essential application documents
Frequently asked questions
Can I apply if I will not turn 16 years old by 31 December 2023?
No, you must turn 16 years of age in the year of travel. If you will not be 16 by the end of 2023, we encourage you to wait and apply for a 2024 Scholarship. If you would like to receive an email when applications for the 2024 Scholarship open, register your interest here.
Can I apply if I am in Year 12?
No, the scholarship is only available to Year 10 and Year 11 students. The study tour falls immediately before the 2023 HSC exam period, potentially impacting important school responsibilities of Year 12 students and preventing them from preparing for their exams.
What if I can't attend the pre-tour meeting on 3 July 2023 due to a prior commitment?
The pre-tour meeting is mandatory for all PAMS scholars. A range of important activities occur on this day, including: uniform fittings; meeting and getting to know fellow scholars and accompanying teachers prior to the tour; participating in important learning activities; and tour preparation. If you cannot attend this pre-tour meeting, the NSW Office for Veterans Affairs will not be able to award you a scholarship.
Which history subject do I need to be studying to apply?
Applicants need to be studying history at a NSW high school to be eligible for a Premier's Anzac Memorial Scholarship. Applicants can be studying Mandatory History, History Elective, Modern History or Ancient History. The tour supports the NSW curriculum and would be most beneficial to students who are studying Modern History.
Does the marked history assignment attached to the application need to relate to Australian military history?
The marked history assignment students attach to their application does not need to relate to Australians at War. We recommend that students select a recently marked history assignment which best demonstrates their passion for history as well as their creativity and communication skills.
Who is responsible for creating a SmartyGrants account to fill out an application form? Can a parent or teacher create the account?
The student applying for the Scholarship should create the SmartyGrants account, rather than a parent or a teacher. Students should use the email address they check most regularly which could be either their school email address or their personal email address. This is important because the application form should be filled out by the student rather than a teacher or a parent. Entering an email address regularly checked by the student will enable them to receive reminders and other important communications from the NSW Office for Veterans Affairs about their application.
Can I write more than 1,000 words for my personal statement?
You should aim to write as close to 1,000 words as possible and write no more than 10% over the word limit.
Should my Principal and History teacher sign the same Letter of Recommendation?
Yes, you only need one letter of recommendation from your school. This should be co-written and co-signed by your school Principal and your History teacher. The letter must use the template we have provided here.
If you have any other questions, please contact the PAMS team by emailing PremierScholarship@veterans.nsw.gov.au