Anzac Community Grants Program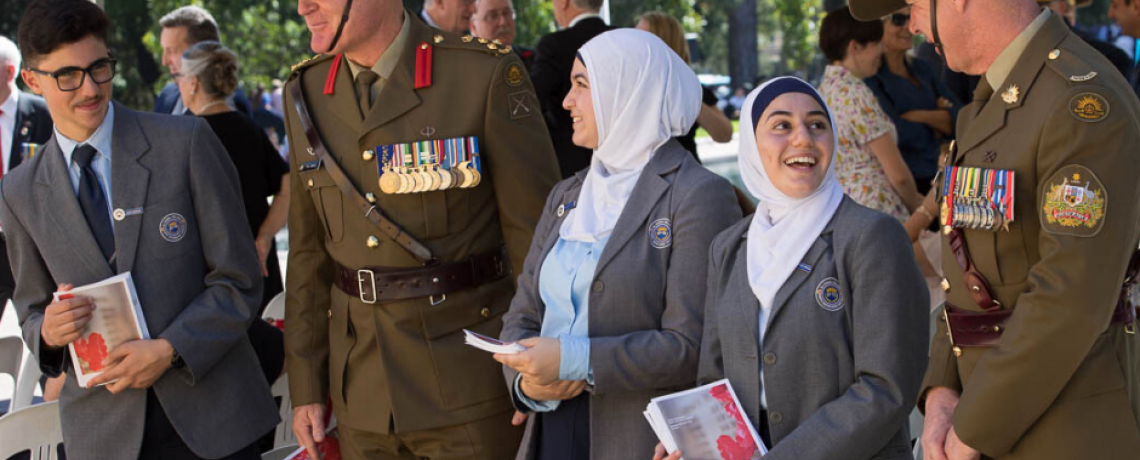 The next round of the Anzac Community Grants Program opens in September 2023.
The Anzac Community Grants Program (ACGP) provides small grants of up to $3,000 for a range of projects that commemorate and educate New South Wales communities about the service and sacrifices of current and former military servicemen and servicewomen. Projects which support activities benefiting the NSW veteran community are also eligible for funding. If you have any questions about the Program please contact the Office for Veterans Affairs.
Please note that grant recipients who have received funding over three consecutive years will not be eligible to apply in the fourth year.
Read the information for applicants
74 projects received Anzac Community Grant Program support in 2022:
Organisation

Suburb

Project title

Brief project description

Funding granted

The Returned and Services League of Australia (NSW Branch)

Sydney

RSL and Schools Remember ANZAC Service

The service follows a traditional Anzac Day commemoration with students honoring the service and sacrifice of servicemen and servicewomen. The service is conducted entirely by students, hand selected through the three education sectors, with over 1,000 students in attendance on the day. 2023 will be the 70th time the service has been held and to commemorate this RSL NSW together with Department of Education, Catholic Schools NSW and Association of Independent Schools have launched an art competition, the winning work will appear on the cover of the order of service program.

$3,000.00

City of Orange RSL sub-Branch

Orange

New PA System

Our current PA System is over 15 years old requires new batteries and after price checking, a new system is not much more expensive.

$1,400.00

Austinmer Thirroul RSL sub-Branch

Thirroul

Anzac Day service

The Austinmer Dawn Service is the largest in the northern Illawarra and the attendance has been increasing each year. The venue is the 100 years old War Memorial which is located in a park adjacent to the beach. The sun comes up as the Service proceeds. The park in which the Service is conducted is long, with the beach on one side and Lawrence Hargrave Drive on the other. As the crowds have grown the need has arisen for a professional sound system, which we have been forced to hire.

$1,000.00

Michael Pellegrino

Burwood Heights

Boys of Burwood

The project is a book that is focused on recalling the stories and experiences of those who have served in both NSW and Australia, from Burwood. Through focusing on the Burwood community, I am aiming to reignite the sense of community that once existed when these young men enlisted, and the community ideals they fought valiantly for, and to truly create a sense of belonging for those who live in Burwood today. The aim of the project will be to ultimately educate and unite modern Burwoodenites in commemoration and gratitude to our armed forces through history.

$1,000.00

Thornton Public School

Thornton

Plaque for Private William King

In 2022 Thornton Public School applied for the custody of the unissued WWI medals of Private William King. Research was conducted by one of our year six classes under the trial program Find Them, Remember Them: Creating Citizen Historians.  The medals are currently on display in the school office. Through the project we aim to increase our students', and our community's understanding of the military service of Aboriginal community members from the Wonnarua nation with the production of a plaque.

$400.00

North Sydney RSL sub-Branch

North Sydney

Anzac Day service

The Anzac Day Dawn Service at the second largest War Memorial in NSW attended by approximately 4,000, with involvement from members of the community, community groups, and schools.

$1,000.00

Wauchope RSL sub-Branch

Wauchope

Display of service uniforms

Our project is to procure modern and effective mannequins that will be used to display and therefore preserve our donated service uniforms. Our uniforms are ceremonial nature, not combat uniform and are unique as they have been worn whilst in-service and donated for preservation and display to the public.

$1,000.00

Walcha RSL sub-Branch

Walcha

Display war memorabilia

Due to the local Ex-Serviceman's club closing down, our memorabilia was dismantled and put in to storage. We have a venue at the local bowling club to display the memorabilia, however we are in need of display cabinets, restoration work and labour costs to have the honour boards correctly mounted. Our aim is to create a place in the community where people are able to come and commemorate the sacrifices of our local veterans and continue to pass down the associated stories and traditions. This will be achieved by creating a central point of remembrance.

$2,000.00

Wentworth Military Collection Inc.

Wentworth

Purchase of a PA system and lectern

The grant funding will go towards the purchase of a Public Address system, to be kept on site for the use by the Wentworth Military Collection and various visiting groups to the museum for the purpose of conducting services, commemorations and dedications at our newly installed Peace Memorial.

$3,000.00

No8EFTS Narrandera

Narrandera

Memorabilia display project

We are looking to purchase a display cabinet to house some additional items including war medals and memorabilia that have been provided to us from local families that are unable to care for these items.

$2,000.00

Advance Ganmain Committee

Ganmain

Preservation of war memorabilia

This project will preserve war memorabilia and uniforms through the installation of custom built cabinets that will preserve significant war uniforms at the Ganmain Historical Society Museum.

$3,000.00

Pathways Community Care Inc

Pendle Hill

Anzac Day service

Through this Dawn Service we aim to provide a safe space for community members, service personal, ex service personal and their family members to come together to remember, share memories and tell stories, keeping alive the Anzac traditions and contributing to social connectiveness.

$1,000.00

Wyong Family History Group Inc.

Wyong

Service women of the Central Coast

This project will produce a book to be researched, written and published detailing the story of the Service Women of the Central Coast, New South Wales, their lives and service. The book will be distributed free of charge to the Return Service League, local libraries, the Mitchell Library, Mr. David Harris MP, Member for Wyong and our own library.  The book will be available to other historical groups and the wider community to purchase in the future.  This is a huge project and the coordinator will be endeavouring to have it completed hopefully within a year if possible.

$1,212.75

Howlong Golf Resort

Howlong

Meal support for veterans

The Howlong Golf Resort is the official meeting place for the Howlong RSL sub-Branch, who meet monthly here and call this their home. Every year the Club generously donates its staff and food and services to provide a gunfire breakfast free of charge to all veterans and dawn service attendees. This attracts 170 - 220 persons each year for a full cooked breakfast. The club also hosts the RSL Sub Branch for a luncheon on Vietnam Veterans Day where it also donates the staff food room etc.

$900.00

Mullumbimby Rotary Inc

Mullumbimby

Anzac Day for youth

Through this project we will distribute educational material, poppies and wattle to local schools to give these young people strength by example from our history, thankful for families, support, care and knowledge that others are working for their future. We hope to give a sense of place, history that is applicable today by speaking to older generations that went to war. Our young people are a good generation and will learn and apply their knowledge to assist others.

$2,000.00

Marrar Football and Netball Club Inc

Marrar

Honour board

Through this project we seek to increase the awareness of our community of the sacrifice that past and present generations have made, and to preserve the history of our Club "Anzac Challenge" games.

$2,650.00

City of Penrith RSL sub-Branch

Penrith

Preservation of memorabilia

Our comprehensive memorabilia collection has been assessed by consultants and deemed worthy of preservation. In consultation we have obtained a quotation from Archive Survival to obtain suitable archive storage items. This is necessary to preserve some items which are delicate. Our Memorabilia Officers rotate displays as appropriate

$1,000.00

Camden Digital Arts and Culture Centre

Smeaton Grange

Camden Digital Arts and Culture Centre Anzac art display

Bringing together older Anzacs, discharged service, disability service people together with local artists to enjoy a meal and view the art exhibition, and meet local community youth and community members and to honour their service.

$750.00

City of Canada Bay Council

Drummoyne

Anzac Day service

Anzac Day dawn service at the Concord Pavilion of Honour.

$1,000.00

Pottsville and District RSL sub-Branch

Pottsville

Anzac Day service

Anzac Day 2023 at the Pottsville Beach Cenotaph and also the Burringbar Memorial Park, to honour those who paid the supreme sacrifice and gave their health and wellbeing in service to our nation. Veterans, local schools and the community will march and pay tribute to all those service men and women who have defended our nation in times of war or conflict. 

$1,000.00

QCWA Coolangatta Branch

Coolangatta 

Anzac Day service

Our project will bring our local community together in a caring, supportive environment whilst delivering education about the service and sacrifice of veterans and their families. we will provide a delicious high tea, speakers and presentation. The Anzac Day march from Coolangatta to the Tweed Heads Memorial passes immediately outside our hall so will also allow people, particularly the elderly and those with disabilities, to observe the march in a comfortable environment. 

$800.00

Advance Ardlethan

Ardlethan

Local signature panels and Soldiers Registrar

The two projects with allow the community and visitors to the area to view, read and see the photos of the local soldiers who served in WWI and WWII. People will put faces to names, learn more about the local history as well as their own family history. These three articles will bring a new dimension to the Anzac services each year and be a permanent tactile (soldiers book) exhibit at the Museum. Panel 1 from 1922 has WWI embroidered signatures of serviceman and servicewomen from this area, and Panel 2  from 1947 has WWII embroidered signatures of serviceman and service women from the surrounding area worked by Ardlethan and Kamarah Red Cross ladies. The Soldiers Registration Book will be scanned and copies made for the general public to view, at the Soldiers Room and Ardlethan & Beyond Museum. A digital copy also made so can be screened at our annual Anzac day services.

$1,858.00

Dudley War Memorial Land Manager

Charlestown

Anzac Day service

Through this project we aim to use Anzac Day 2023 as a lunching pad for an expansion of the Memorial. Improvements include making the memorial more disability accessible and creating a new monument to honour those who have served since 1918. This expansion is being driven by the Memorial Trust with the support of the local community. The Dudley Boardriders and the Dudley Rugby League Club are providing financial and in-kind support in the planning and resourcing of the infrastructure upgrade.

$1,000.00

Coonabarabran Public School

Coonabarabran

Commemorative garden

There are 3 existing garden beds in the courtyard of our school, with one being utilised with 2 flagpoles, and we will use the grant funding to start our commemorative garden. Through this project we seek to involve the students in the planting of the hedges and to assist in the placing of the pavers around the gardens so that they have some ownership over the project. It will create discussion around our proud tradition of defending our country, and become a focal point in our school playground.

$2,500.00

New South Wales Lancers' Memorial Museum Incorporated

Parramatta

Memorabilia display cabinet

To purchase a display cabinet to finalise displays in the post World War II room, using a cabinet that matches the cabinets we have obtained for the other three rooms.

$1,015.00

Mumbil District Progress Association Incorporated

Wellington

Renovation of local Anzac memorial

The Mumbil District War Memorial consists of an upright bushrock, set in a bed of white pebbles. Attached to the front of the rock is a plaque bearing the dedication to all those who have served. The Memorial is positioned in the middle of a concrete slab, in the shape of an octagon. A pipe and chain fence is located around the slab, and a flagpole also stands in front of the rock. We are seeking funding to replace the white pebbles and repaint the concrete slab, pipe and chain fence and replace the locking mechanisms on the display cabinets.

$750.00

Cardiff RSL sub-Branch

Cardiff

Anzac Day service

Our Anzac Day dawn service is carried out to commemorate the service and sacrifices of current and former military service personal and to educate the younger members of the community of the importance of the day and respecting our traditions.

$1,000.00

QCWA Coolangatta Branch

Coolangatta 

Memorabilia display cabinet

Our display cabinet will contain items from our archives which demonstrate our appreciation and admiration of women in the services. In particular, it will show the history of The Women's Land Army which is recognised by the Australian War Memorial, and the part CWA played in the formation and support of the Land Army.

$1,500.00

Kingswood High School

Kingswood

Commemorative garden

The main objective of this project is to build a memorial garden at Kingswood High School that is an educational outdoor learning space, to further educate our students on the importance of Australian History such as Anzac Day, Remembrance Day and all conflicts.  It will be an area where students can study in a quiet environment, and a place for appreciation and reflection of the sacrifices and dedication of our veterans. The garden will be positioned at the school's multipurpose centre main entrance, a hall used by over 1,000 students daily and with a capacity for 1500 people. 

$3,000.00

Wallsend RSL sub-Branch

Wallsend

Anzac Day service

Our Dawn Service will include a guest speaker on the topic of Anzac & its meaning, local clergy offering prayers, a band providing music for the Hymns and entertainment of people present.  A wreath laying will be part of the service with local Ex-Service Personnel, local businesses, schools and the general public participating.

$1,000.00

Burwood Council

Burwood

Anzac Day service

Burwood Council holds an annual dawn service to commemorate Anzac Day in Burwood Park. 200 cadet units march toward the memorial arch in Burwood Park and from there a formal commemorate ceremony takes place, including the Last Post and Wreath laying. 

In 2023 we will additionally be acknowledging the 100 year anniversary of Burwood's 1st World War Memorial Arch. The arch is a focal point and centerpiece of Burwood Park, and features eight granite honor rolls, inscribed with the names of those who served in the first world war. The arch is now redirected as a memorial to all Australians who have served and continue to serve. To honor the arch we will be creating and installing a 100 year symbol that will remain in the park for the year. 

$1,000.00

Belmont RSL sub-Branch

Belmont North

Anzac Day service

Through this project we seek to gain more veterans joining our sub-Branch, educating locals, keeping the legacy alive, keep the Anzac Day March and service alive by providing support to members of the NSW veteran community to attend the Anzac Day March and service.

$1,000.00

Penshurst RSL sub-Branch

Penshurst

Catalogue Riverwood memorabilia

We wish to use the grant to photograph and add digitised memorabilia to our website. This will ensure that the memorabilia that we have inherited from Riverwood Legion Club is catalogued in the same manner as our local Penshurst memorabilia, to align with the RSL constitution.

$1,000.00

The Scout Association of NSW Branch (1st Burrill Ulladulla Scout Group)

Ulladulla

Remembrance social evening

By hosting a damper and billy tea commemorative fire pit night with the local RSL sub-Branch, veterans, current service personnel, Scouting youth and families - we hope to honour the Remembrance Day anniversary as well as educate the community about the service and sacrifice of NSW veterans through ceremony and sharing of stories around the fire. A laser cut fire pit featuring educational and interpretive signage through firelit Remembrance Day artworks will form an integral focus point for the gathering.

$859.00

Dee Why RSL Club Ltd

Dee Why

Anzac Day service

The Dee Why RSL Club Anzac Day Dawn Service follows a traditional program that includes a Catafalque Party, the Anzac Dedication, a recital of In Flanders Fields, the Ode of Remembrance, The Last Post, One Minute of Silence and The Reveille. Both the Australian and New Zealand National anthems are sung along with wreath-laying and a keynote speaker who is either a veteran, or works for an organisation that supports veterans.

$1,000.00

Panania Public School P&C

Panania

Commemorative mural

We intend to create a Anzac themed focal point with the painting of a mural in a high traffic area. The wall selected is visible from almost all areas of the school, specifically where students play on their breaks and parents/carers/community members assemble during the many community events held throughout the year. We are focused on educating the students and community about the remarkable contributions of all servicemen and women, and feel strongly that this visual representation of their service will resonate best with the young students attending our school. 

$2,500.00

Richard Joseph Barry OAM

Narrabri

Respect Their Service Too

This project seeks to inform the wider community the story of the trials and tribulations of young Australian men who were compulsorily called away from their civilian jobs in the 1960's under the implied threat of two-years jail time if they refused. They were sent to a foreign country to fight in a war against oppression alongside local forces. A war that divided the nation like no other. That war occurred two generations ago and through this project I intend to set out in chapter and verse exactly what these men endured. I will achieve this by donating my books to high schools in the district and lodging copies in the local library, the AWM plus Mitchell and National libraries.

$1,000.00

Bunnaloo Public School

Bunnaloo

Commemorative garden

We wish to install an Anzac themed sign in the middle of our school roundabout where our flags fly that will become central to our yearly Anzac Day and Remembrance Day services.  Our small rural town does not have an Anzac Memorial so all school families and members of our local community are invited to our school services, and this will provide an appropriate back drop and rallying point for our town and local community.

$2,500.00

Taralga Historical Society

Taralga

Display of military uniforms

We wish to purchase two large display cabinets to house some of our most important military uniforms dating from the Anzac landing at Gallipoli through to those of local Afghanistan veterans. The display will be 2400mm x 2000mm and dominate the eye of visitors as they enter the dedicated building set aside for our local military history.

$3,000.00

West Wyalong RSL sub-Branch

West Wyalong

Memorabilia cabinet

We currently have a large war memorabilia cabinet just inside the front door of the West Wyalong Services and Citizens Club which is very popular to all members and visitors. The cabinet is now full of memorabilia, and we would like to build a cabinet adjacent to this cabinet. This glass cabinet will be a place where we can display Medals and other small personal items from our veteran community.

$1,250.00

Newcastle and Hunter Combined Schools Anzac Service Inc

Tenambit

Combined Schools Anzac commemorative event

The 2023 Combined Schools Anzac Commemorative Event is a public commemorative event. It  will honour or mark military anniversaries and pay tribute to the service and sacrifice of NSW veterans. Students from the 3 sectors of education will work with local veterans and veteran groups to stage the event ""We Who Remember- Families of those who have served and sacrificed". The narrative section of the event will highlight the remembrance of local veterans by families and organisations in the Hunter. It is an educational event staged for mainly upper primary students.

$1,000.00

Wyalong Public School

Wyalong

Commemorative garden

Through this project we seek funding to replace the perishing plastic garden edging with rounded concrete edging. We will achieve this by employing a professional concreter to undertake the job.

$2,997.00

Finley RSL sub-Branch

Finley 

'Finley in the Great War' book

Finley has a proud history of commemoration via the town war memorial, Anzac Day services and displays of war memorabilia at the Returned Services Club, but the story of the men from the district who served in the war has not been told before in such breadth and depth. The book will allow present and future generations to better understand the experiences of those who volunteered for service in the First AIF. By doing so, the men who served (no women served from the district) will be remembered as more than just a name on a memorial.

$3,000.00

Picnic Point Public School

Picnic Point 

Commemorative garden

Through this project, we seek to create a school commemorative garden. A concrete slab is required for the footing for the construction of our new memorial space and a short path to allow access to it. The commemorative garden will be located beside the schools existing lone pine. It will serve as a commemorative reminder for the current and future students and community members of Picnic Point Public School. It will feature in our ceremonies on days of remembrance for students to pay tribute to the service and sacrifice of veterans. It will be used as an educational environment to build children's understanding about the past, to reinforce messages of the devastating effects of war on communities and families.

$1,000.00

Grafton RSL sub-Branch

Grafton

Plaque to commemorate Aboriginal and Torres Strait Nations

Install a plaque in the Memorial Park near the Cenotaph to honour the contribution that Aboriginal and Torres Strait Islanders have made to the Veteran and Australian Community.

$1,000.00

Shellharbour City Museum

Shellharbour

Shellharbour veterans podcast

Through this project, we aim to capture the stories of three contemporary Australian Defence Force personnel and share them with our community. We aim to promote awareness of the work being done by local servicemen and servicewomen and foster an understanding of their experiences. Shellharbour City Museum in collaboration with our local RSL Sub-Branches, Albion Park and Warilla, will engage a local filmmaker to interview three veterans and develop a 20-minute podcast featuring their stories.

The podcast will be launched as part of Shellharbour City Council's Anzac Day 2023 commemorative events and will be available online 24/7, through the Museum platform 'Discover Shellharbour'. The podcast is intended to be the first in a series of podcasts titled 'We Are Shellharbour' that will be developed by Shellharbour City Museum in the coming years and remain as an ongoing source of information and understanding for the community.

$3,000.00

Wingham RSL sub-Branch

Wingham

Wingham Memorial centenary time capsule

To conduct a major community remembrance and tribute event at the Wingham Memorial Town Hall in November 2023. This date marks the Centenary of the placement of a Time Capsule in the foundations of Heritage Listed Hall, sponsored and funded by returning WWI soldiers to their home district. The building of the Hall was selected by soldiers to be a substantial, practical and enduring tribute to those who sacrificed and served their country. The Hall area continues to be the townships home of our Cenotaph and Honour Rolls.

$3,000.00

Brisbane Water Brass Incorporated

Erina Heights

Musical support for services

Through this project we seek to fill a gap in delivering a live music service that is increasingly difficult to find. For WoyWoy, Ettalong, Hardy's Bay RSL we would be engaged to provide music at their 10am service. For Toukley RSL this would be the Remembrance day service at 11am. For the care homes (listed in our financial disclosure) this would be services (in conjunction with local RSL clubs) that would be several days prior to Anzac day with a schedule to be developed.

$750.00

Rooty Hill RSL sub-Branch

Rooty Hill

Upkeep of Memorial and Museum

Continued upkeep of the Memorial to update deceased members and also upkeep of the War Museum at Rooty Hill RSL sub-Branch.

$750.00

Saltwater Veterans Sailing Project

Manly

Saltwater Veterans Sailing Project

Through this project, we seek to create psychosocial reconnection opportunities and support to our contemporary veterans, and to provide historical talks about former military training areas on the Northern Beaches of NSW. Whilst conducting a highly inclusive boating activity, we will transit to historically significant maritime venues around the Pittwater including the former WWII Torpedo Testing Range, coastal defence bunkers and Camp Z of Operation Jaywick in Refuge Bay.

$1,000.00

Brendan McAloon

Bardwell Valley

Geoff Valentin 1920—1945: Forgotten Champion

The project is the biographical sketch of an AIF soldier killed in Bougainville, who but for the intervention of war might have been a household name as a swimming champion. Geoff Valentin (1920-45) whose generation that comes to disrupted by the social upheaval of Australia's entering WW2. Just as he was picked to represent NSW in the 1940 national swimming championships in Perth, Valentin, 19, entered national service in the CMF, Western Sydney, later transposed into the 55/53 Battalion.

$500.00

Cessnock City Library

Cessnock

Exploring Cessnock memorials

The 'Exploring our memorials' project proposes taking two half-day bus tours of our war memorials and to finish these events with a barbeque in Bridges Hill Park which will be catered by the Cessnock Men's Shed. Both bus trips will begin and end in Cessnock. As our Local Government Area is so large, two trips are proposed. One will go south, covering the Cessnock to Wollombi area, the other will go east covering the Cessnock to Pelaw Main area. Participants can go on either or both trips as they will be stand-alone experiences. Through this project we seek to raise awareness of the war memorials as places of reflection and commemoration, encourage greater visitation to them and to illuminate the diversity and extent of war memorials in the Cessnock Local Government Area.

$1,560.00

Castle Hill & District RSL sub-Branch

Castle Hill

Memorabilia display and preservation

The project aims to have the Medals, Ribbons and Photos in the sub-Branches suitable for public display. The items have not been preserved, photo frames are coming apart, and the Medals and Ribbons need to be refurbished. 

$1,000.00

Cawdor Public School P&C Association

Cawdor

Commemorative garden

Cawdor's Anzac Commemorative Garden and its official opening, will be a project undertaken by Cawdor students, to design and develop a dedicated space within our small school to enable quiet reflection. We will use symbols to commemorate Australia's wartime history. The garden will be created around our flag poles which are central to events when the Australian flag is lowered for a period of time and raised again as a sign of remembrance. Metal poppies will honour people who have died in wars. A space will made to allow wreaths, created by students, to be laid on important dates including Anzac Day and Remembrance Day, to help our community remember those who gave their lives in war. Plants including rosemary will be planted, to not only create a peaceful, colourful space, but to then have the rosemary to pick and wear, to honour and remember Australians who died serving our country. A mates bench will allow friends to sit together in the garden to chat and share reflections. The bench will be inscribed with the lettering 'LEST WE FORGET'.

$1,250.00

RSL Lifecare Veteran Services

St Leonards

Preservation of memorabilia

We wish to engage the organisation "Care". A company skilled in preservation needs assessment, mould and mildew eradication and training for the preservation of the memorabilia displayed and stored at the Museum.

$1,250.00

Jerilderie RSL sub-Branch

Jerilderie

Jerilderie Cenotaph centenary commemoration

Through this project we seek to celebrate the significance of the 100th Anniversary of our town's Cenotaph. We will achieve this by conducting a Dawn Service at the Cenotaph which gives citizens an opportunity to lay wreaths and pay their respects to those men and women who have served their country. At the conclusion of the service a complimentary breakfast will be provided by the Jerilderie RSL sub-Branch followed by a March at 10:00am conducted through the main street of Jerilderie to the Cenotaph. Those surviving persons whose names are listed on our Cenotaph will be invited to attend this day. An open invitation will also be issued to any known relative of a deceased serviceperson listed on the Cenotaph to attend. At the conclusion of the proceedings a complimentary morning tea will be offered to all those in attendance. At mid day Official Guests, returned service men and women, their partners, members of the Catafalque Party and interested members of the public will be invited to join members of the sub-Branch for a celebratory luncheon.

$1,100.00

Shoalhaven Defence Families Association Inc.

Nowra Hill

50 years anniversary

Through this project, we seek to put on a commemorative formal dinner event / ball to celebrate 50 years of the Shoalhaven Defence Families Association Inc (SDFA). We will achieve this by booking a local venue, hiring a local band, and creating a keepsake booklet with the history and achievements of the SDFA. Our sponsors and other ESOs will be invited to celebrate and their contributions will be acknowledged at the event. Volunteers and employees past and present will be acknowledged and thanked.  The event will pay tribute to the service and sacrifice of veterans with a particular focus on families and their contributions towards the defence community. Our volunteer committee along with the Community Support Coordinator will facilitate and organise this event.

$1,250.00

Hunter's Hill Council

Hunter's Hill 

100th Combined Anzac Memorial Service

Through this project Hunter's Hill Council, working with the Hunters Hill RSL sub-Branch, will seek to remember, honour and pay tribute to the service and sacrifice of Hunters Hill and NSW veterans and serving personnel. We will achieve this through a special service marking the Anzac military anniversary. Traditionally held on the Friday evening before Anzac Day, the 2023 event on 21 April will mark the 100th anniversary of this collaborative commemorative event. The two organisations will work together to host a community event, involving the service of remembrance, which is preceded by a march from the RSL War Memorial to the Obelisk Memorial at Town Hall.

$3,000.00

Oatley RSL sub-Branch

Oatley

Victoria Barracks tour

Back In Time will allow Oatley RSL sub-Branch members to partake in a historical tour of Victoria Barracks Sydney, expanding their knowledge of local military history. Three sub-Branch members are currently posted to the Barracks as full time Army members so it will also provide the opportunity for older members of the sub-Branch to observe the operation of Headquarters Forces Command.

$1,100.00

Murray River Council

Moama

Anzac Day service

The event aims to bring community and schools together to recognise and honour the sacrifice of the service men and women in our LGA and includes a a Dawn service at the Moama Cenotaph, will be immediately followed by a Gunfire Breakfast. A Commemorative Service will be held at 9am at the Moama Cenotaph, followed by Two Up and the AFL Anzac Day match will be shown afterwards on the big screen. A Dawn Service will also be held at the Mathoura Memorial Gardens, immediately followed by a Gunfire Breakfast. A Commemorative Service will be held at 10am at Mathoura Memorial Gardens.

$1,000.00

Howlong RSL sub-Branch and Brocklesby Chapter

Howlong

Anzac Day service

We wish to ensure our Anzac Day creates an environment that enable our community show their respect to our service personal. We will achieve this by having a wreath at Howlong main service and another at our service at Brocklesby. We also contribute to the Albury City Band to play at our march which greatly increases the ambiance of the day. Afterwards we supple a simple luncheon to our members to thank them for their service.

$750.00

Pacific Islanders Community

Werrington

Anzac Day service

The Anzac Day for the Pacifica Community project will shed awareness for our people, the Pacific Islander communities, in order to interact with the local community acknowledging what Anzac Day means to the Australian Community and by respecting this annual event.

$1,000.00

Legacy Club Services

Sydney

Legacy Centenary Community Picnic

In 2023, to celebrate our Centenary anniversary, Legacy Club Services will honour those within the local community who served in any conflict by holding the Legacy Centenary Community Picnic to commemorate and pay tribute to the service and sacrifice of NSW veterans. Within this project, we seek support for our commemorations of our Centenary events which allows veterans, widows, families, and descendants to remember their loved ones and honour their sacrifices. Our Community Picnic allows for more than 300 widows, descendants, and veterans to share with us the memory and legacy of our NSW veterans.

$1,500.00

Nowra Anglican College

Bomaderry

Commemorative garden

Through this project we aim to purchase and install trees and plants significant to Australian Military Commemoration throughout our Australian Defence Force Memorial Garden. These plants will provide much-needed shade and privacy so that students, families and staff can enjoy the solitude and reflect in the calming space. This will help to complete the College ADF Memorial Garden. 

$1,000.00

Glenorie RSL sub-Branch

Glenorie

Anzac Day service

Through the Anzac Day Dawn Service we engage with the local community providing a poignant and reflective time to honour and remember those who fought and died so that we can enjoy the freedoms we have today.

$1,000.00

Cronulla Public School  P&C Association

Cronulla

Commemorative garden

Through the implementation of our commemorative garden, we seek to create a place for students to develop a deeper understanding and raise awareness of the sacrifices made by our war veterans. A garden for reflection and remembrance of the services provided by our Anzacs. The expected outcomes are an increased awareness from students around the sacrifices that were made by those who served. The memorial complete with bench seats and 4 commemorative plaques will be a focal point for the school community and will provide a respectful place for Anzac services to be held as well as a place to educate and reflect and quietly contemplate our veterans all throughout the year.  It will also be used as part of learning and special events to educate future generations of students and families that attend.

$1,000.00

Tomaree Museum Association Limited

Nelson Bay

Display cabinets

We will acquire a display cabinet to display artefacts, photographs which relate to the activities of service personnel in Port Stephens during WW2. We will attempt to record interviews with former service personnel or their family who can recall events relating to military service in Port Stephens during WW2. We will order a diorama to be built which sets out the scene of amphibious landing exercises in Port Stephens.

$1,100.00

Sutherland United Services Club trading as Club on East

Sutherland

Anzac Day service

By providing this service to the community, we as a country and community focus on the pride and courage, mateship and sacrifice of our Anzacs.

$1,000.00

Bayside Council

Rockdale

Conservation and digitization of memorabilia

Through the project we seek to give the public, and particularly the residents of the Botany area, better access to significant World War One memorabilia relating to the service of two local brothers. We will achieve this by conserving and digitizing the memorabilia that has been donated and making it publicly available through Bayside Council's website and libraries. The Benham Family War Service Archive contains 78 pieces, none of which has been professionally cleaned, conserved or housed for long term preservation and storage. Included in this are two large, ornately decorated Certificates of Thanks from the Mayor, Aldermen, and Citizens of the Municipality of Botany to both Alfred and George Benham. 

$1,000.00

Burwood Council

Burwood

100th Anniversary of the Burwood War Memorial: Reflection & Commemoration Project

2023 marks the 100-year anniversary of the unveiling of the Burwood War Memorial Arch. This project aims to preserve the history of how the project came about, and show the journey from idea to unveiling of this key Burwood landmark. Alongside this will be community displays of images and the history of the unveiling in Burwood Park, with education programs to shine light and educate our community about the sacrifice given by members of our community.

$1,200.00

Chinese Australian Services Society Ltd

Campsie

We Are All Australian

A short educational video on the heritage of Anzac will be filmed with different community languages and sub-titles including Chinese, Korean, Indonesian and Vietnamese.

$500.00

The Scout Association of Australia, NSW Branch

Chatswood

Anzac Day service

We seek funding to run two Anzac day services, one at Wahroonga and the second at Turramurra. Through this project we seek to successfully complete these services to a high standard, and to engage Scouts, Guides and potentially other youth in researching aspects of the program and to gain heightened awareness of the significance of Anzac and sacrifices made.

$1,000.00

The Scout Association of Australia, NSW Branch

Chatswood

Anzac Day service

We seek funding to help run the Anzac Day Dawn Service at Bicentennial Park, West Pymble. The costs are broadly minimal and include, limited marketing, site preparation costs, further development of digital media, a small amount for certificates and one wreath. In addition, we seek funding to take youth members of Scouts and Guides to Canberra to visit the War Memorial to enable them to effectively take part in the Anzac Day ceremonies.

$980.00

RSL LifeCare

Narrabeen

Anzac Day service

Anzac Day commemorative Dawn Service for the residents and their families, staff and their families and the Narrabeen/Collaroy Plateau community. The commemorative service includes traditional elements such as the reading of hymns, readings, Anzac Address, Catafalque Guard, wreath laying. Anthems and the act of remembrance - The Ode, Last Post, one-minutes silence, and Reveille. The service is to be followed by a community breakfast barbecue. RSLLC will seek support from a local community groups such as Rotary, Rovers or Surf Clubs to operate the barbecue. At this stage we are not sure if there will be a fundraising element to this as this could be perceived in poor taste by the community. Alternatively it would be a gold coin donation for RSL LifeCare's Veterans Services. (RSL LifeCare is a registered charity)

$1,000.00