Community War Memorials Fund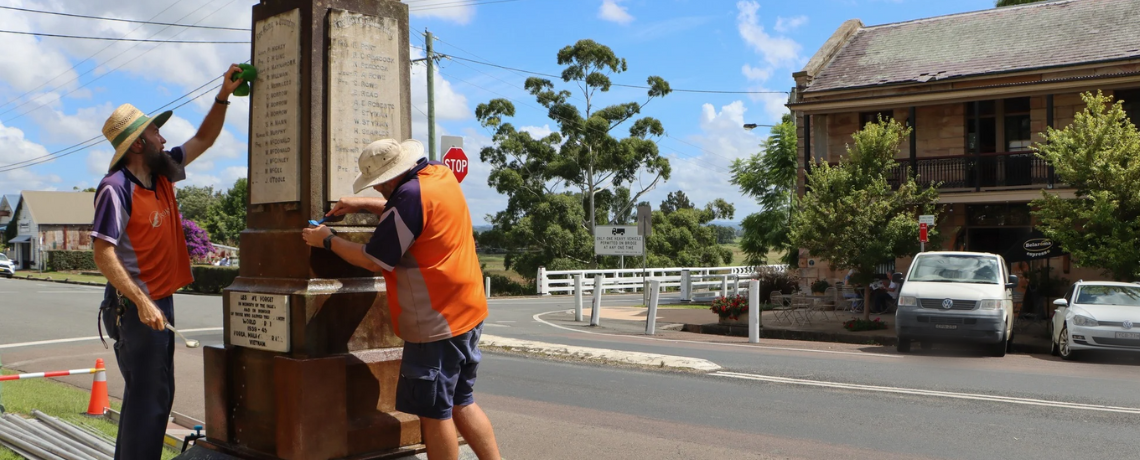 Applications to Round 2 close at 5pm on 13 February 2023.
The NSW Government established the Community War Memorials Fund to help conserve, repair and protect war memorials across NSW. Since the establishment of the program in 2008, grants have been provided for a wide range of projects including conservation assessments, honour roll repair, war memorial cleaning and conservation work, arborist advice for war memorial trees, security measures for memorials, repairs to war memorial halls and improvements to the accessibility of memorials.
Two application rounds are run each year. The rounds open on Anzac Day and Remembrance Day.
Grant applications are assessed by the State War Memorials Committee which is comprised of senior representatives of the Returned and Services League of Australia NSW Branch (RSL NSW)  Public Works Advisory, Heritage NSW and the NSW Office for Veterans Affairs.  
The below table outlines key dates for the 2022/23 Community War Memorials Fund application rounds. 
|    | Round 1 | Round 2 |
| --- | --- | --- |
| Applications open | Anzac Day, 25 April 2022 | Remembrance Day, 11 November 2022 |
| Applications close | 5pm, Monday 25 July 2022 | 5pm, Monday 13 February 2023 |
| Approximate date for announcement of outcomes | October 2022 | May 2023 |
How to apply
Study the 2022/23 Program Guidelines before completing the online Community War Memorials Fund application at https://veteransnsw.smartygrants.com.au.
We also recommend you refer to the Caring for our war memorials guide and the Photographing War Memorials guidelines. 
If you have any questions, please email us at VeteransGrants@veterans.nsw.gov.au

Community War Memorials Fund Documents

 Recipients of Round 1, Community War Memorials Fund 2022–2023
| | | | | |
| --- | --- | --- | --- | --- |
| Application ID | Organisation name | Project Title | Project Description | Grant |
| CWMF00607 | Ku-ring-gai Council | Lindfield Soldiers War Memorial Park and Gates | Conservation to the memorial gates at the entrance to Lindfield Soldiers War Memorial Park including the restoration of the metal gates, cleaning and treating bronze plaques and repairing damaged areas of lead over the cornice. | $10,000.00 |
| CWMF00610 | Hornsby RSL sub-Branch | Hornsby War Memorial | Conservation work to the Hornsby War Memorial, including cleaning and repointing of stonework and cleaning and regilding of panels. | $10,000.00 |
| CWMF00615 | Narromine Shire Council | Trangie Memorial Hall | To have a condition assessment report prepared for the Trangie War Memorial Hall including specification for physical works. | $3,000.00 |
| CWMF00622 | Bogan Shire Council | Nyngan and District First and Second World Wars Memorial | To have a condition assessment report prepared for the Nyngan and District First and Second World Wars Memorial. | $2,200.00 |
| CWMF00625 | Mallanganee Hall Public Land Managers | Mallanganee Memorial Hall | To have a condition assessment report prepared for the Mallanganee Memorial Hall including specification for physical works. | $3,000.00 |
| CWMF00627 | Singleton RSL sub-Branch | Singleton Town Cenotaph | To prepare a condition assessment for the memorial and specification for physical works. | $3,000.00 |
| CWMF00629 | Dubbo Public School | Dubbo District School Great War Honour Roll | To have a condition assessment report prepared for the Dubbo District School Great War Honour Roll. | $2,000.00 |
| CWMF00632 | Inner West Council | Leichhardt War Memorial | Conservation work to the Leichhardt War Memorial, including cleaning of stonework, treatment of bronze plaques and regilding. | $10,000.00 |
| CWMF00636 | Gosford RSL sub-Branch | Gosford Cenotaph | Conservation work to the Gosford Cenotaph, including cleaning the monument and repairs and conservation work to the upper section. | $9,999.00 |
| CWMF00640 | Mosman Preparatory School | Mosman Church of England Preparatory School WWI Roll of Honour | To have a condition assessment report prepared for the Mosman Church of England Preparatory School First World War Roll of Honour. | $3,600.00 |
| CWMF00642 | Deniliquin RSL sub-Branch | Deniliquin Uniting Church First World War Roll of Honour | Conservation work to the Deniliquin Uniting Church First World War Roll of Honour, including removing deteriorated varnish and regilding of names. | $6,162.42 |
| CWMF00643 | Maitland City Council | East Maitland War Memorial | Conservation work to the East Maitland War Memorial, including cleaning and pointing of stonework, and treatment and repairs to fence and kerbset. | $10,000.00 |
| CWMF00645 | Snowy River RSL sub-Branch | Berridale War Memorial Precinct | Conversation work to the Berridale War Memorial, including cleaning and repainting. | $3,000.00 |
| CWMF00646 | City of Wollongong RSL sub-Branch | Wollongong Cenotaph | Conservation work to the Wollongong Cenotaph, including cleaning, repairs to sandstone and marble features, and repainting of lettering. | $10,000.00 |
| CWMF00647 | NSW National Parks and Wildlife Service | Sphinx Memorial | To have a conservation management plan prepared for the Sphinx Memorial precinct. | $4,389.00 |
| CWMF00648 | Glen Innes Uniting Church | Glen Innes Cameron Memorial Uniting Church Great War Memorial Transept | Conservation work to the Glen Innes Cameron Memorial Uniting Church Great War Memorial Transept, including repairs to render on walls and treatment of concrete cancer around windows. | $5,200.00 |
| CWMF00659 | Glen Innes RSL sub-Branch | Emmaville War Memorial Restoration | To have a condition assessment report prepared for the Emmaville War Memorial including specification for physical works. | $3,000.00 |
| CWMF00661 | MidCoast Council | Stroud War Memorials | Conservation work to the Stroud Showground Great War Memorial and Stroud Cenotaph, including cleaning, replacement of missing mortar and repairs to lettering. | $9,000.00 |
| CWMF00667 | Austinmer Thirroul RSL sub-Branch | Thirroul First World War Memorial | Conservation work to the Thirroul First World War Memorial, including cleaning, replacement of grout, repairs to tiling, and painting. | $10,000.00 |
| CWMF00671 | Richmond Valley Council | Volunteers from Woodburn District Who Served Their Country During the Great War | Conservation work to two flood damaged First World War honour rolls from the Woodburn Memorial Hall. | $10,000.00 |
Previous Funding Recipients