Celtic Cross War Memorial, Gosford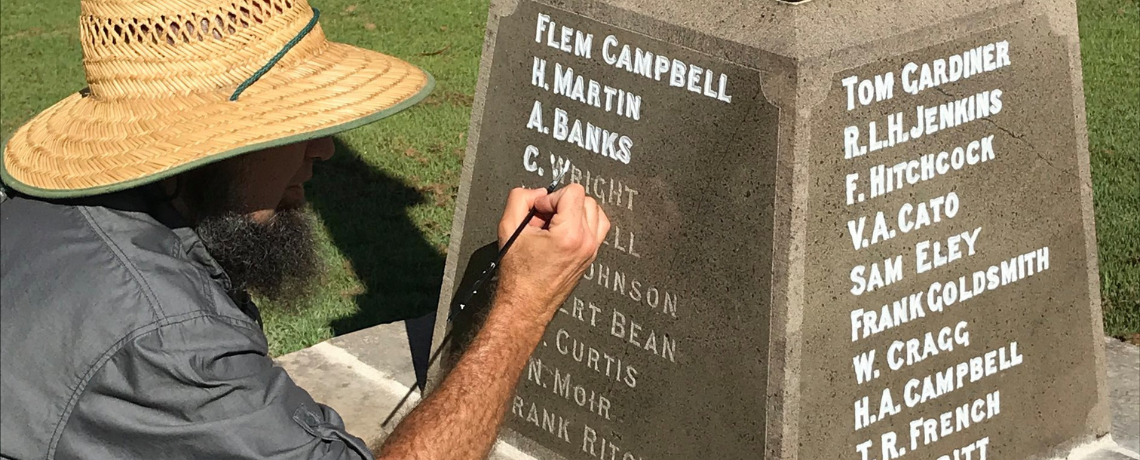 In 2021, conservation work was undertaken on the Celtic Cross War Memorial which stands at the entrance of historic Christ Church in the Anglican Parish of Gosford.
Unveiled in August 1920, the memorial was erected in memory of the parishioners who served in the First World War. The monument is topped with a Celtic cross made from Bowral Trachyte on a three-stage pedestal, the lowest of which bears the names of 30 soldiers who were related to members of the parish.
The original Christ Church was first erected in East Gosford in 1858 and was moved to its current location in 1906. The Celtic Cross War Memorial is historically significant as Gosford's first war memorial. It continues to be part of the community's Anzac Day and Remembrance Day activities.
The build-up of moss, lichen, and pollution over time meant the names of those soldiers became barely legible, and mortar was disappearing from the joints.
The Parish successfully applied for funding under the Community War Memorials Fund for the Rookwood Cemetery Monumental Heritage Team to undertake conservation work to the memorial. The stonemasons gently hand-cleaned the stone elements of the memorial using brushes, water and pH-neutral soap. The monument's joints were then repointed with lime mortar before the lettering was carefully repainted by hand to match the inscription's original paint colour.
In August 2021, just over a century after the memorial's original unveiling, the names of those 30 soldiers were restored to their rightful condition so their service and sacrifice could be remembered by the community.
"This local heritage item provides a tangible link to our past war history, and uniquely demonstrates the importance of faith on the home front during the First World War. This restorative work has ensured this monument's endurance well into the future."
— Merril Jackson OAM, historian
The Community War Memorials Fund provides grants of up to $10,000 to support the repair, protection and conservation of community war memorials across the state. including specialist heritage advice and physical work.
For more information and to apply, click here.
Project photos