Bondi Surf Bathers Life Saving Club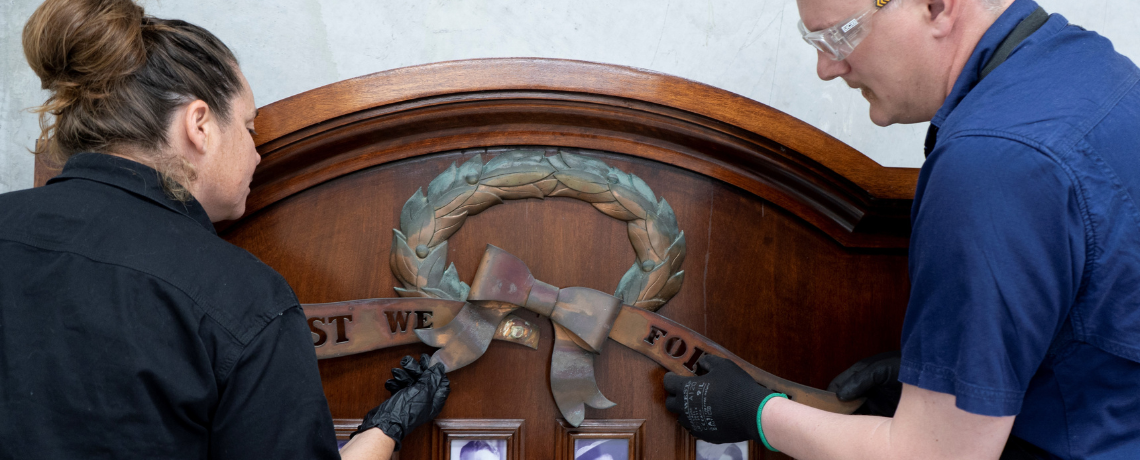 In 2021, the Bondi Surf Bathers Life Saving Club was awarded a Community War Memorials Fund grant to have two memorial honour boards cleaned and treated by a conservation specialist. The honour boards commemorate the service of Club members in the two World Wars and include photos of those who died in action.
Established in 1907, the Bondi Surf Bathers Life Saving Club is recognised as the oldest surf lifesaving club in the world. Over 80 members of the Club served in the First World War, ten of whom tragically died in action. In the Second World War, 210 Club members served, with 14 not returning home.
The first Honour Roll was unveiled in 1921 to commemorate club members who served in the First World War. Then, in 1949, Australian artist and RAAF veteran Cedric Emanuel designed the second Honour Roll, commemorating those who served and paid the ultimate sacrifice in the Second World War.
Over the years, weathering by salt air and busy usage of the hall meant the honour rolls needed to be restored, and the Club applied for a grant under the Fund.
The grant enabled the Club to engage O'Sullivan Conservation to undertake a condition assessment of the honour boards including photographic documentation. The conservators then undertook a gentle cleaning process to remove surface dust and contaminants. Tarnishing and corrosion were then treated, followed by the application of protective coatings to the timber and metal elements. Eoin O'Sullivan, Director and Principal Conservator of O'Sullivan Conservation, noted that 'the decorative metal components in particular will significantly benefit from a thorough clean and conservation treatment'.
Watch a video on the restoration work below.
In 2022, the restoration work was completed in time for the Club's Anzac Day commemoration services in April, with the Honour Rolls taking centre place so the community could pay tribute to club members who served and sacrificed their lives.
"These memorials are a very special piece of the Club's history. … We appreciate the support from the Community War Memorials Fund to help keep our heritage, and our members' sacrifice, safe for future generations."
— Brent Jackson, President Bondi Surf Bathers Life Saving Club
The Community War Memorials Fund provides grants of up to $10,000 to support the repair, protection and conservation of community war memorials across the state. including specialist heritage advice and physical work.
For more information and to apply, click here.
Project photos