Morpeth War Memorial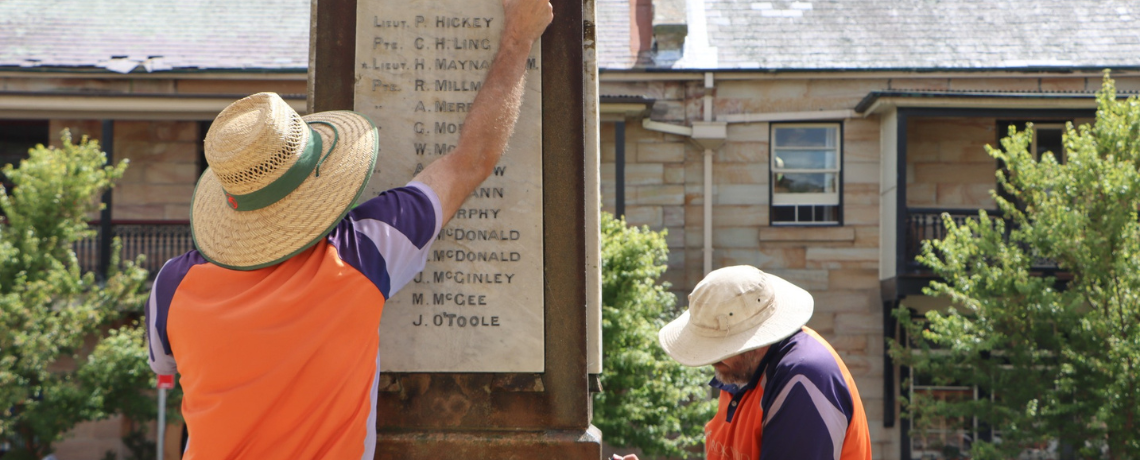 In 2021, Maitland City Council was awarded a Community War Memorials Fund grant to undertake conservation work to the Morpeth War Memorial, including cleaning the monument, repointing the memorial's stonework and repairs to its lettering.
Located in the historic river port town of Morpeth in NSW's Hunter Region, the memorial was first unveiled in 1921 and commemorates those from the local community who served from the First World War through to Vietnam. The memorial stands outside the former Morpeth Courthouse in the heritage-listed Morpeth Conservation Area.
By early 2022, the refurbishment was well underway to ensure the memory of those from the area who served could continue to stand pride of place for the Morpeth community. Specialist stonemasons from Rookwood Cemetery carefully hand-cleaned the sandstone elements and marble plaques before re-tapping the lead lettering and replacing some letters which had been lost. The stonemasons also repointed the monument's joints with lime mortar followed by two weeks of aftercare using damp hessian and plastic wrapping.
Restoration work was completed in time for the community's Anzac Day services on 25 April. Traditionally, Morpeth's Anzac Day march starts from the corner of Swan and Tank Streets and then proceeds toward Morpeth War Memorial for a commemorative service.
"Those of us who live here and visit the memorial, particularly on Remembrance Day, Vietnam Veterans Day and Anzac Day, admire the structure. We go through all the family names that are still known to us – we remember them and pay our respects. On behalf of the Morpeth Anzac Day Committee, the families of all personnel listed on the memorial and the people of Morpeth thank all those responsible for the restoration of this very important structure of history."
— Morpeth Anzac Day Committee.
The Community War Memorials Fund provides grants of up to $10,000 to support the repair, protection and conservation of community war memorials across the state. including specialist heritage advice and physical work.
For more information and to apply, click here.
Project photos